How to Find Us & Parking
Located in the centre of Leicester, Central Baptist Church is 5 minutes from the train station, and approximately 10 minutes from the bus station. We are within easy reach from most places in the city and conveniently located between the University of Leicester and De Montfort University. For Sat Nav purposes, our postcode is LE1 1LA for our front entrance on Charles Street. The car park to the rear of the church building in Alfred Place is the most convenient for visiting Central on Sundays. This is a pay and display car park which is not owned by Central Baptist Church. This and other places where parking is available are below:
Alfred Place, LE1 1EB – car park located at the rear of the church building. £3 for all day parking on Sundays.
31 - 33 Dover St, Leicester LE1 6PW (just off Granby Street). Tends to be the best option on Sundays now due to the price increase in Alfred Place. £1 for all day parking on Sundays.
Rutland Centre, 56 Halford St, Leicester LE1 1TQ (next to Curve Theatre) Leicester Rutland Centre | NCP Car Parking
Roadside parking: spaces on Charles Street or Granby Street.
Other options: Parking in Leicester
The church building is then a short walk. From Granby Street and the Alfred Place carpark you can access the back entrance of the building which is opposite the Leicester City Council Customer Services in between an off licence and a barbers. If you make your way down to the large metal security gate at the bottom of the car park this will lead you to the side door of our building and the side entry which leads to our front entrance on Charles Street.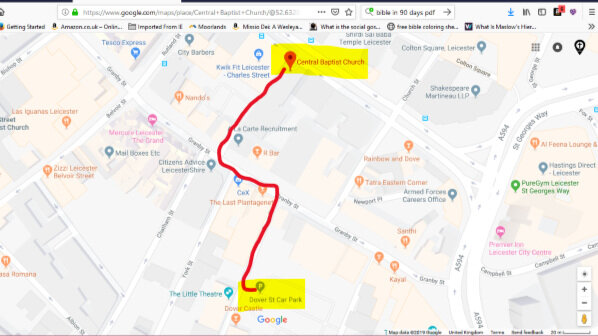 DOVER STREET CAR PARK TO CBC (2 MINUTE WALK)
Plan your journey to our church building at Charles Street, Leicester by using the links below.
Bus Travel in Leicester | Tickets & Times | Arriva Bus
Journey planner | Leicester | First Bus
Our Church is affiliated to the Baptist Union of Great Britain
and East Midlands Baptist Association